The Ultimate Boss Babe Guide: 11 Boss Babe Accessories
For all my readers out there aspiring to be a boss babe like yours truly, I'll let you in on a little secret – it looks cuter than it really is. Working independently isn't all rose gold glitter and Instagram filters. It takes a lot of hard work, determination, courage and one hell of a backbone. You have to be able to say no to awesome hangout opportunities with your friends, skip out on family functions when your schedule is overflowing, and even put the majority of things you love to the side.
Being a boss babe doesn't come easy. However, with the right boss babe accessories, it can become easier. So, whether you're an aspiring freelance writer, Instagram influencer, Youtube sensation or entrepreneur, make sure your boss babe attitude fills your office space.
My Top 11 Boss Babe Accessories
1. Desk organizer
As you're about to find out, one of the most important boss babe accessories is a desk organizer. Unless you're like me, then you'll still have things overflowing onto your work space.
2. Rose gold paper clips
Just when you think paper clips are so 90s, you become a boss babe and realize how vital they are. So, don't skip out on these boss babe accessories.
3. Feminine file folders
Again, just when you think the 90's are behind you, you become a boss babe. Chic file folders are a must have to keep everything in order.
4. Statement stapler
You'll be stamping down on this stapler like you wouldn't believe. So, don't crap out on a cheap one.
5. White marble laptop cover
I'm all about using my Macbook as an accessory when I'm not pounding out articles on it. So, make sure your laptop looks fabulous even when you're not using it.
6. Chic pens – and lots of them
Despite having a desktop computer, laptop, tablet and smartphone, you'll find yourself writing with a real pen and piece of paper. It's amazing, isn't it? Oh, and you'll always be losing them. So, grab bulk ballpoint pens.
7. A desktop cup
You need a desktop cup to hold all of these to hold all of those boss babe accessories!
8. A chic business card holder
Despite having a business card holder that denotes me as the 'second banana' (Thanks, Mom), this Kate Spade boss accessory has made it on the list.
9. Notebooks galore
If you're like me, you'll become obsessed with notebooks. They're just as practical as they are chic. So, stock up, my future boss babes.
10. Boss babe mug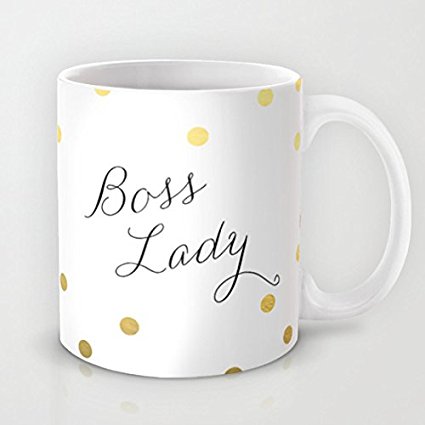 Java is about to become your next best meal. So, make sure you have a chic boss babe mug to drink out of.
11. A complete set of boss babe accessories
Heck, you might as well grab an entire set of boss babe accessories because you'll need them. Personally, I like picking and choosing different items to add a splash of personality and individuality but if you can't be bothered, grab a chic desk kit instead.
For the final touch, I recommend adding in some fresh flowers. I get mine from the local market and change them up to suit my mood.
The key to achieving a boss babe office is to have an abundance of boss babe accessories. You'll be spending a ton of time in your office – way more than you want to admit, so make sure you enjoy your workspace. It'll make your office your own little zen den.